David Greene's Milam County Brown Santa Program Fundraiser Set for July 18, 2020
06/12/2020
The Milam County Sheriff's Office is hosting the 10th Annual David Greene's Milam County Brown Santa Golf Tournament on July 18th at the Cameron Country Club in Cameron, Texas. This is the program's primary fundraising event and we are proud to showcase that it is the 10th Golf Tournament we have had the honor to host.
In 2009 Sheriff David Greene's vision for the Brown Santa program was to collect donations and money so that gifts and toys could be provided to children of Milam County who would not otherwise get to experience a Christmas with toys on Christmas morning. Thousands of children have received toys throughout our eleven years operating the program. It is our honor within the Sheriff's Office to continue David Greene's vision, to keep this wonderful program going and make it part of his legacy to the children of Milam County.

David Greene's Milam County Brown Santa Program has grown to the point now that it serves approximately 425 to 450 children each year and typically presents two gifts to each child. At Christmas time, staff and deputies donate time and effort to organize, collect, purchase, package, and deliver toys to children throughout the county.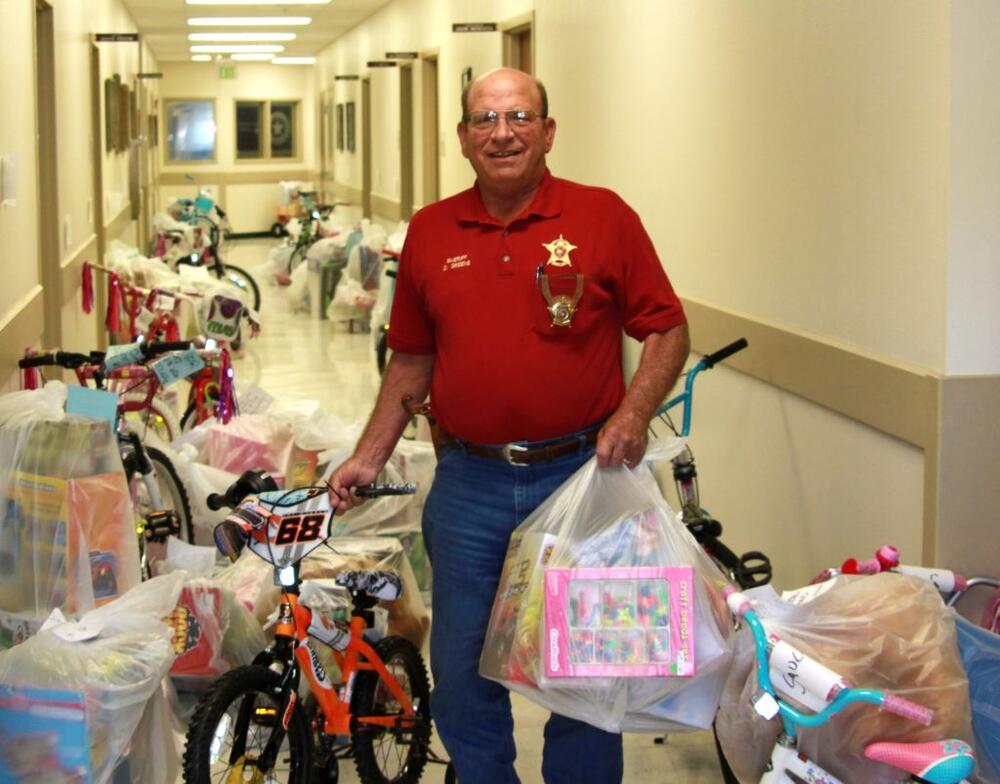 Additionally, the program participates in four Christmas Parades with a colorful and sometimes uniquely designed parade-float. Each year, float designers within the ranks of the Sheriff's Office, do their best to out perform the float design from the year before. Sheriff's deputies, jailers, dispatchers and administrators put numerous hours of work into the float-project which pays off big when we get to see the faces of the children during the parades.
The primary fundraising activity for us is the golf tournament (which is typically held on the hottest day of the year). Although the heat is certainly noticeable, everyone always has a great time. Hole Sponsorship for businesses, politicians and/or individuals are $100 per sign. Becoming a hole sponsor allows you to advertise your business or yourself, on an 18" x 24" sign placed around one of the tee-boxes throughout the golf course. We have had a lot of success with hole sponsors with some businesses purchasing multiple signs. The tournament is held as a five-person team scramble. Players do not have to have a team put together beforehand - we have always been able to put teams together with the individuals who show up wanting to participate. We provide lots of water throughout the day to keep everyone hydrated. We also have breakfast-tacos donated by Tommy Standards of Standards Home Health at the start of the tournament and sausage-wraps made of Westphalia Meat Market sausage donated by James Hudson and Thorndale Meat Market Sausage donated by Trey Felton.
Participants can sign up to play on the day of the tournament (July 18th) Registration fees are $60 per person, or for $100 you get play for one person, (5) raffle tickets, (2) Mulligans and (1) Stretch of tickets for our tactical golf-bag drawing (a package valued at $150). Please show up early (7:00 to 7:30 am) to register for the 8:00 am Morning Tee-time. There will also be an Afternoon Tee-time starting between 1:30 and 2:00 pm (for the hardcore heat-resistant golfers)
An exciting part of this years fundraising activities will be our raffle. Tickets are available for purchase at $10 each, which will offer five chances to win five separate prizes. The prizes will be awarded in the order listed and in the order the tickets are drawn from the pool. The prizes are listed as follows:
Authentic Texas A&M Football Helmet Autographed and Personalized by R.C. Slocum - donated by R.C. Slocum
Beaver Creek Ranch Guided Exotic Hunt with a Shoulder Mount - donated by Jim Elzner of Beaver Creek Ranch located in Gause, Texas and Hunter's Heaven Taxidermy
Guided Thermal Hog Hunt - donated by Chris Eisfeldt and guided locally in Milam County
UDS Style Smoker customized with David Greene Brown Santa Badge - donated by Blake Hairston of Barrell Bum Smokers of Buckholts, Texas
Yeti Tundra 45 Cooler with a Custom Brown Santa Patch
We are excited to have R.C. Slocum donate his time and autograph for our winner of the football helmet. Arrangements will be made to allow for the winner to meet with Coach Slocum at the Milam County Sheriff's Office around the first week of August in order to take photographs and allow him to personalize and sign the helmet.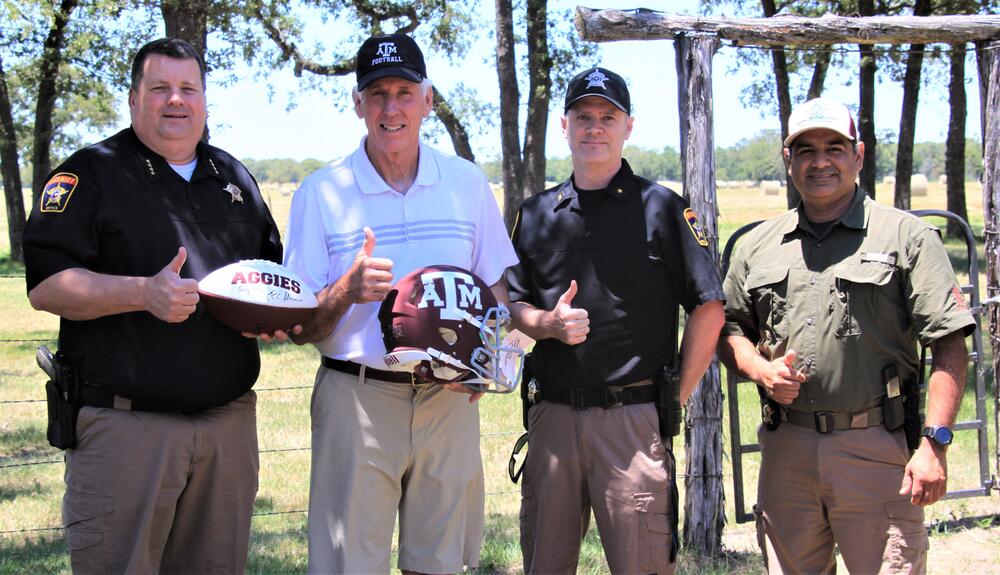 For anyone wishing to purchase raffle tickets, information to become a hole sponsor, questions about early registration to play, or to donate, please come by the Milam County Sheriff's Office, or contact us via email at info@milamcountysherifftx.org.